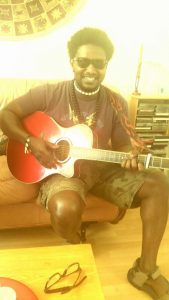 Gavin is truly an excellent teacher!!! He teaches all levels no matter your ability or age. If you want to expand your knowledge of music you've found the right person.
Gavin will soon inspire your deeper appreciation and understanding of how the guitar works.  A unique teaching style of guitar playing. Making it fun and enjoyable eager to learn more. He has taught me everything I know about guitar. I've recently passed my grade 3 with distinction and grade 4 Merit and in December I'll do my grade 5 exam with London College of Music. Having lessons with Gavin is the best thing I've ever done. If you're going to learn make sure you learn from the best!
He's charming and friendly he'll make you feel like you're at home with genuine enthusiasm and support, he'll soon have your guitar playing and appreciation for all music on a whole new level!   Ever since I've started lessons with him I can't stop playing the guitar.
Thank you Gavin for the help and support!!!
Click here for Bamba's Youtube Channel