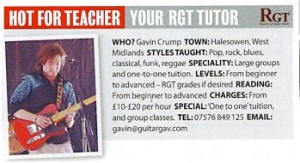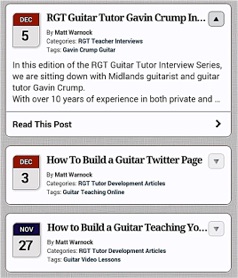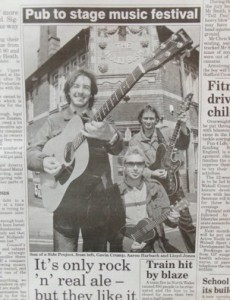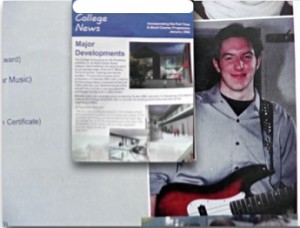 ---
I have also had an interview with the RGT called 'Teacher Feature' discussing the role of the Guitar tutor.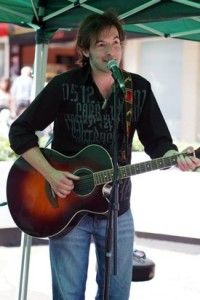 In this edition of the RGT Guitar Tutor Interview Series, we are sitting down with Midlands guitarist and guitar tutor Gavin Crump.
With over 10 years of experience in both private and group guitar instruction, Gavin is an in-demand guitar tutor in the West Midlands, as well as an experienced performer with over 20 years of on-stage gigging experience.
We recently caught up with Gavin to discuss RGT Exam Preparation, how he got started as a guitar tutor, and the pros and cons of private guitar instruction.
To find out more about RGT Guitar Tutor Gavin Crump, please visit his homepage or the Gav and Emelye Facebook Page.
RGT: When did you first start teaching guitar, and what/who inspired you to take up teaching?
Gavin Crump: One to one teaching began in 1993 and the group opportunity arose in 2003.  After a few sessions I felt comfortable with the teaching and learning process that took place.
The job title 'Guitar Tutor for Adult Education' alone inspired me, as well as students reviewing my teaching methods at the end of the course.
RGT: What do you enjoy most about teaching guitar?
Gavin Crump: As well as giving my students the opportunity to perform what they have learnt, everyone is different, fascinating, and have interesting backgrounds.
Students passing an RGT exam is rewarding. It is also very satisfying when students do better than they expect. In-group sessions, students keep in touch and bond.
They often tell me they taught a family member a couple of chords or a tune that I showed them, and loved the teaching and learning side of it.
RGT: What are the downsides of the job?
Gavin Crump: The hours can be unsocial, or when a student wants to learn to play but they are too busy to practice between sessions. Their work/family commitments tend to dominant schedules sometimes.
Also, when younger students go through exam periods at school, they are often exhausted by the time they have an after-school lesson with me.
RGT: How do you balance your teaching commitments with other aspects of your life (e.g. gigging, family and social life)?
Gavin Crump: Like anything else, teaching has to come first as that is my full time job. I generally finish quite late at night but at least the weekends are there to socialise.
I play with professionals in showcases that I set up which is a good experience for my students to watch.
RGT: Summarise your approach to teaching guitar in a few sentences.
Gavin Crump: I get to know my students with initial assessments and allow time to talk about what they want to do. I've found being a good listener can help a lot.
I always create a fun learning environment with the tools I have and allow opportunities to happen.
And finally introducing my learners to realistic and achievable goals within a certain time frame is paramount for their learning experience.
RGT: What styles of music do most students want to learn?
Gavin Crump: The Blues is always a favourite amongst other styles.  But there are always classic Pop and Rock tracks in demand too.
RGT: Do you find the RGT exams useful? If so, in which ways?
Gavin Crump: They are extremely useful for working towards realistic goals at whatever the level.  If a student selects songs that may be difficult to learn to begin with, there is always plenty of theory involved when using the RGT handbooks. And I can introduce songs of equal challenge that way.
RGT: How do new students find out about you, e.g. via RGT website, advertising (if so, where), recommended by other students?
Gavin Crump: Through the RGT website, as well as my own. Word of mouth also from current students is helpful.
RGT: Have you found your private student numbers affected by the current economic climate?
Gavin Crump: Yes, they are quite honest and inform me of their situation if they think it may affect lessons.
RGT: How do you encourage students to practice?
Gavin Crump: Using the RGT handbooks is very useful for introducing students to different aspects of Guitar playing, in terms of pitch and harmony test amongst other categories.
I have also encouraged them to apply basic technological ideas since there is so much choice now from software to mobile applications.
RGT: Do you have any tips to pass on to new guitar teachers?
Gavin Crump: Teaching one person has always been easier compared to a large group of mixed abilities. Keep an open mind. Don't be afraid to experiment with new ideas for keeping new students, and experienced ones challenged, particularly very young students who don't listen to a lot of music.
My biggest challenge has been with large groups of children who are quite keen on the likes of R'n'B and Rap, these styles often contain no guitar playing. Be prepared and allow time for differentiation it can be a useful tool.
Overall don't take anything personally.