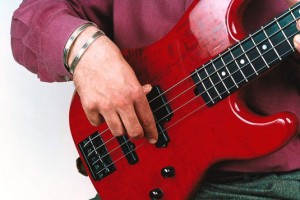 We revisited Ozric Tentacles' "Lost in the sky" as well as seven
Mediterranean modal islands including Ionian, Lydian, Phrygian, in order to
accompany the rising chromatic patterns within Kevin Kendle's "Dance of Electra",
for an entire tantalising ninety minutes….but there's no rest when you're already
in the hang glider, soaring with the composers-performers towards the Pleiades. AS
spent relentless minutes (on the six-string acoustic too for a while) self
correcting and NOT experimenting in order to achieve the precision the piece
requires …to recreate exactly the uplifting middle crescendo and descent.
Only then, with ten minutes to spare, my request, prior to our session, was to
acquire the basics which form the signature bass melodies from the 1973 album "Tales
from Topographic Oceans" by the band, Yes, which took a matter of minutes! The
realisation of 41 years of captivation was upon me, as I played the simplest notes
in compete accord with the dear late maestro, Chris Squire, to my own amazement and
delight.
AS
Bass Journal Part 4
Bass Journal Part 3
Bass Journal Part 2
Bass Journal Part 1